A version of this was published in The Santa Fe New Mexican
April 17, 2009
Mosey Mack is back.
Mose McCormack,
one of the finest country songwriters in New Mexico, has just released his first album in 12 years. Appropriately enough, it's called
After All These Years.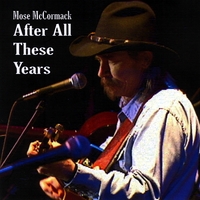 Not only that, he's re-released all of his old albums on CD. Two of those,
Beans and Make Believe
and
Mosey Mack
, have never been on CD before.
Another, Old Soldier's Home
, recorded in the late '70s, has never been released at all.
For those unfamiliar with Mose, here's his story: McCormack was born in Dothan, Alabama, and went to high school in Georgia, but he got out of the South not too many years after getting his driver's license. He went to California. After a brush with the law in Hawaii, McCormack became a professional jewelry maker. "My teachers were the Hopis and the hippies," he told me in an interview for
No Depression
magazine in the late '90s. "I started doing that for a while, and people kept telling me I could sell more jewelry if I moved to Santa Fe."
He did that in 1973. Except for some short stints in Nashville and Tulsa, McCormack has lived in New Mexico since. He hasn't been seen much in these parts in recent years, though. He's been living in Belen with his wife, Becky, and daughter Alma, who was just a baby when his previous album,
Santa Fe Trail,
came out.
McCormack recorded
After All These Years
, like all his other albums, at John Wagner Studios in Albuquerque. That could be one reason the music sounds so timeless. A bunch of Wagner/McCormack regulars play on it, including Augie Hayes on steel guitar, Mike Montiel on guitar, and Gretchen Van Houten on fiddle. There's just a little more age in McCormack's voice, but most of the tracks from the new album would fit in on the older ones, and vice versa. But most important — after all these years — McCormack still writes some mighty fine country songs.
The album kicks off with "Battle of Love," a jumpy little stomper that starts with "That white trash trailer house rockin' to the battle of love/On a rocky foundation there's a whole lot of shakin' goin' on." My favorite part is the refrain, "But I open my big mouth, uh oh/Little brain went south, oh no." Another favorite is "Another Clown," a heartache two-stepper in which Hayes and Van Houten especially shine. "No, I ain't funny anymore," McCormack sings. "Find yourself another clown."
There's a song about his daughter, "Little Alma"; a Cajun rocker; and the norteño-flavored "Dusty Devil," which has the refrain, "Came from Alabama with a banjo on his knee/Came for your tortillas, you obliged so graciously."
One might suspect that the title song of an album called
After All These Years
would be slow and maybe a little maudlin. Not so here. This is a fast-paced, good-humored country rocker. The first verse says, "I met her in Albuquerque/At the Waffle House down at the Big I/I said 'I feel like ham,' she said, 'You look like turkey'/I knew, then, I'd love her till the day I die."
This album is full of joy. I just hope it doesn't take Mose 12 years to do the next one.
Here's a look at the reissues:
*
Beans and Make Believe
(1976). "That's 25-year-old Mosey on the cover," McCormack told me in a recent e-mail. Indeed it is. But that's probably the only dated thing about McCormack's debut. This one has the first recording of the singer's signature tune, "New Mexico Blues," as well as the title song, about a lovesick man living in a little dump "out behind Hamburger Heaven."
*
Old Soldier's Home
(1979). Mose has the best description, which appears on the liner notes: "This album was dug out of the great Hillbilly vs. Hollywood wars. The 'Major Record Deal' that got canned so deeply, we didn't think it would ever see the light of day." Or as he told me, "My 'stardom' was casually flushed into the sewers of Sunset Boulevard." It's clear there are some bad memories here. But the music, while just a little slicker than most of his stuff, is fine. I especially like "Bustin' for the Door," which, like several McCormack tunes, changes time signatures several times — though unlike most Mose tunes, this one's got sax bteaks.
*
Mosey Mack
(1981). This CD has the distinct honor of being the first Mose album I ever reviewed — back when I was freelancing for
The Santa Fe Reporter
. It's got a cool Cajun-like tune called "Mama Copacabana" and a rocked-out banjo stomper called "Bootlegger." But after 28 years, my favorite song still is "Louie," the sad tale of a working man seeking his freedom and $100 whores.
*
Santa Fe Trail
(1997). This is just a mighty fine CD. When it first came out, I wrote that my favorites were the hard-core honky-tonkers "It's No Secret" and "That Nightmare Is Me." That's still true, though his cowboy song "Mama's Picture" is worthwhile too.
After All These Years
is available on
CD Baby
, Perhaps the reissues soon will be there too. You can find Mose at myspace.com/mosemccormack, but it doesn't look like he updates it much. Oh well, it's almost refreshing these days to come across a musician who's not all Internet-obsessed. If you want to buy a CD, e-mail him at
mccorma696@cs.com
. And
CLICK HERE
for a 1997
Pasatiempo
profile of Mose by the late Woody Thompson.
Podcast Plug
: Mose McCormack's song "Beans and Make Believe" is on my latest podcast, Santa Fe Opry Favorites Vol. 2, at
http://terrellpodcasts.blogspot.com
.