OK, I normally don't blog about the commercial endeavors by music stars, not even the ones I like.
But I had to laugh when I got the following press release this morning (April 20,
4-20, get it?
Get it?):
Music legend Willie Nelson is pleased to announce a unique American enterprise: Willie's Reserve, a cannabis brand reflecting Nelson's own longstanding experience and his commitment to regulated, natural, and high quality strains of marijuana in U.S. legal markets. As one journalist has already noted, "The marijuana world is about to get its first connoisseur brand, edging it farther from an illegal substance and closer to the realm of fine wines."
Willie's Reserve is an extension of Willie's passion and appreciation for the many varieties and range of the plant's qualities. Some of the best master growers in America will collaborate, along with Willie, to define quality standards so that fans can expect clean and consistent products.
Willie's Reserve will be grown, distributed and sold by local businesses in Colorado and Washington, and will become available in other markets when state regulations allow.
Somewhat controversially, Willie has spent a lifetime as an outspoken supporter of cannabis for personal use and for industrial hemp production.
Building on Willie's community of friends and experts who share his values, Willie's Reserve will seek ways to further support and celebrate aspects of the singer-songwriter's journey with cannabis. Willie and his family, and a few close friends developed the brand with emphasis on environmental and social issues, to lend support to the gradual end to marijuana prohibition across America.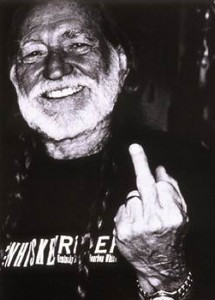 "I am looking forward to working with the best growers in Colorado and Washington to make sure our product is the best on the market," stated Willie Nelson.
Collaboration is at the center of plans for Willie's Reserve. Willie has been an outspoken supporter of the front line efforts of store owners, growers, and citizens who have been pioneers and advocates of cannabis policy improvements. The company will work with businesses that are making smart and sustainable choices for the environment, have demonstrated leadership in their markets, and are committed to encouraging safe, legal use.
Seeing the power of legalization, regulation and taxation to impact how Americans view cannabis is a life's work realized for Willie. As many have noted, his involvement is no surprise, and in the end, it's no surprise that Willie's Reserve will reflect his life.
And, according to
an article in Forbes
a couple of months ago:
From what he shared, it looks like Willie's Reserve is going to be much more than just marijuana. The brand is looking to open brick and mortar locations, though obviously only in states where the substance has been legalized—Colorado, Washington, Alaska, Washington DC, and Oregon later in 2015. Those working at the fledgling company want their firm to be the "anti-Walmart", as they want to treat all those that they work with fairly, from employees to partners. No word just yet on when the stores will open, but the plans are in motion.
A warning to my readers here in New Mexico and other states in which the sale of recreational marijuana isn't legal: Don't expect to see Willie's Reserve sold here anytime soon.
But it is legal here to listen to some of the "4-20" songs I blogged about last week.
CLICK HERE
UPDATE
4:21 pm
: Here's a new song by Willie and Merle Haggard, "It's All Going to Pot."
As my friend Rob just said, Merle's a long way from Muskogee!